Maintenance Products, Repair Products
Ink Remover
$15.00 Ex Tax
13 in stock
Easily Remove Ink and Lipstick Stains. For removing ink or lipstick stains that are up to 5 days old*, use our Ink Remover stick. The quicker the Ink Remover stick is used the easier and better the results. Express Delivery Available. Got a ink or lipstick stain now but you don't already have Ink Remover? We offer express delivery via Australia Post so you can remove the ink stain as soon a possible for the best results. For The Best Results Be Prepared. Ink Remover sticks get the best results when used as soon as possible, we recommend you keep one available in your home to be prepared for accidents. read more
SKU:

5014/1

Weight

0.2 kg

Dimensions

18 × 12 × 3 cm
Buy 2+ and receive a discount!
Description
Lowest Prices Ever From Australia Leading Supplier - Sofa Rehab
We're Australia's Leading Supplier for Repair Kits and Spare Parts. Get the lowest prices on DIY repairs and if your a trades person who needs to buy in bulk, we also offer bulk buy discounts.
Used by Professional Leather Cleaners & Technicians
The Ink Remover is the same product used by any Leather cleaning professionals. Save the cost of calling out a pro for something you can do yourself for as little as $16.50
* Due to the  many variations of leather and ink type and leather condition, there is no guarantee that 100% ink removal will be achieved.
How To
How To
Remove the screw cap and wind the bottom end until the tip is approximately 4mm out from the tube
Pre-test on a concealed area of leather before first use
Pass the ink remover stick repeatedly over the point to be cleaned, pressing gently and leaving a paste on the surface
Wait 30-60 seconds then massage paste into the stain
Wipe off the ink remover with a soft dry cloth
Repeat steps 3-5 as required
For stains older than 24 hours
Remove the screw cap and wind the bottom end until the tip is approximately 4mm out from the tube
Pre-test on a concealed area of leather before first use
Pass the ink remover stick repeatedly over the point to be cleaned, pressing gently and leaving a paste on the surface
Wait 30-60 minutes then massage paste into the stain
Wipe off the ink remover with a soft dry cloth
Repeat steps 3-5 as required.  Tip – Patience will pay off.  Apply multiple times to fully remove the stains Note – Dependent on leather colour and the strength of the stain, not all ink will be fully removed
Bulk Buy
Bulk Buy
Buy 2+ and save 10%
Buy 4+ and save 15%
Buy 10+ and save 20%
Reviews (2)
You may also like…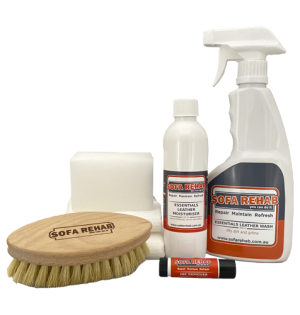 Related products