Essentials Leather Repair Kit
$45.00 – $150.00
All you need to carry out minor cosmetic repairs including pet damage, scratches, holes, rips, tears, scuffs, cracks, and fading!
Any Colour Leather Can Be Repaired Using This Kit! Suitable for repairing leather and vinyl of all colours, including white leather! No extra tools required, no experience needed, repair with ease. Unsure Which Colour Is Right For You? Visit our Free Leather Samples page and we'll send you 6 free colour samples of your choice! Do It Yourself and Save $$$ Watch our video tutorial to see how easy it is to get amazing results on all cosmetic repairs. read more
Description
The Essentials Leather Repair Kit is a full cosmetic repair kit in a handy sized storage box available in multiple sizes. Everything in this kit is included for you to be able to carry out cosmetic repairs, no additional tools or experience required.
Amazing long term results can be easily achieved using this DIY kit. Just read our product reviews from previous customers to see how!
Available in Over 40 Colours. Need Help?
With 40+ standard colour options available, you will be sure to find something that matches your leather. To ensure you order the right leather repair kit, request 6x free leather samples from us before you purchase.
Always the Lowest Prices From Australia's Leading Supplier
We're Australia's Leading Supplier for Repair Kits and Spare Parts. Get the lowest prices on DIY repairs and if your a trades person who needs to buy in bulk, we also offer bulk buy discounts.
Video Tutorials and Step-By-Step Guides
With our wide range of repair products, our easy step-by-step instructions and video tutorials, you've got everything you need to repair it yourself. Feel great about having done the repair yourself and saved $$$ on the repair.
Whats in the box?
Reviews (32)
This was probably the most helpful company I have dealt with in a long time. My email was answered immediately. Txt messages followed asking for more info. They asked for pics of where we thought the problem was. They were spot on with what the problem was.
Tanya Collins
I was doubtful this would repair our badly damaged headrest area of our leather lounge. But, I thought had nothing to loose so I gave it a try.
I cut a tiny sample of our leather away from underneath the recliner where that cannot be seen & sent that to Sofa Rehab to hopefully match our colour.
I've just completed the repair & colour. The colour match is perfect & now I cannot see where the damage was before. Marvellous product.
Robert Burrough
Great service. I ordered on a Sunday and had the product in 2 days. Very easy to fit, like about 3 minutes. Very good info on the website. Turned a broken chair back into something useful with ease. Great price and convenience.
David Dean
Ordered the leather cleaning kit after paying a professional to clean my leather lounge. It looked like nothing had changed when he finished. The leather cleaner solution from Sofa Rehab lifted the dirt instantly. Everything I needed to do the job was provided. Noticed the difference in colour straight away. Instead of wasting $150 on a professional to clean my sofa I will continue to do it myself with better results.
Layna Armstrong
We needed to replace a cracked cup holder and buttons on our electric recliner. We reached out to a repair company who quoted $485. I couldn't believe it... so hit the net to see if I could find the part and low and behold I found it on Sofa Rehab for $85. The description said it was easy to do, so with the massive saving on offer I thought I had nothing to loose. Sofa Rehab was spot on, it was easy and only took 10min!
Ritchie Wise
You may also like…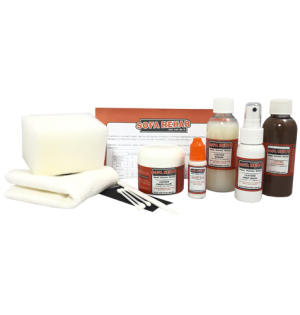 Related products