6 Button Power Recliner Cup Holder MLZB020-D1
$77.00
In stock
Power recliner cup holder control replacement with 6 back-lit touch buttons and a 7 x changeable colour base ring to complement any mood is suitable for electric recliner chairs, sofas and theatre lounges. Mulin Electric model Number MLZB020-D1 couch armrest cup holder has 6 buttons to control feet up/down, headrest up/down and lights on/off and a Home button feature. Great for electric theatre lounges. Electric Recliner Armrest Cup Holder Replacement Commonly found in brands like Amart, Harvey Norman, Synargy Smart Comfort and many more. Mulin Electric produced replacement electric recliner cup holders. You can do it yourself and save. Easy fitting in under 10 minutes with no experience required. Fit with the 4x screws located in the base of the cup holder. read more
SKU:

E-CUP20

Brand:

Weight

0.37 kg

Dimensions

21 × 18 × 13 cm
Description
MLZB020-D1 Power Recliner Cup Holder Control Replacement
This replacement electric recliner couch cup holder is fitted into the armrest of the power recliner chair, couch or theatre lounge and has the 6 x illuminated touch control buttons to operate the footrest, headrest and lights with a Home button feature. Fitted into the armrest of the electric power recliner for a quality appearance. Includes a 5 pin plug to connect to actuator (motor) and a system plug. Mulin Electric model number MLZB020-D1.
Note this is not compatible with MLZB020 or MLB020-B1 we sell these also Click Here For MLBZ020   Click Here For MLBZ020-B1
Save Time & Money and Do It Yourself
The replacement is easy to fit with no experience required. Use the 4x screws located on the base of the cup holder to fit. The size of the unit is 110mm span across the illuminated buttons and will fit a hole diameter of 87mm. We sell the clear acrylic insert separately if required.
Australia's leading supplier of recliner chair spare parts
We're Australia's Leading Supplier for Repair Kits and Spare Parts. Get the lowest prices on DIY repairs and if your a trades person who needs to buy in bulk, we also offer bulk buy discounts.
* Note this Cupholder is not suitable for use in the following countries – USA and Canada.
Technical Specifications
Technical Specifications
Model number – MLZB020-D1.
Size – 110mm span across the illuminated buttons
Frame hole – Will fit a hole diameter of 87mm
Rating – Input DC29V Output 12V 1A
For all dimensions watch the short product information video found in the main product photo gallery.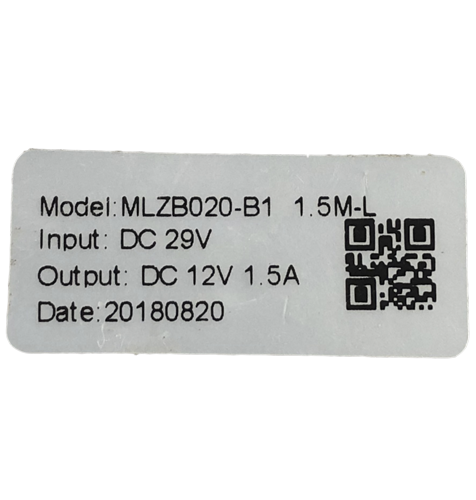 [/vc_column][/vc_row]
How To
How To
Disconnect power to the item
Press touch buttons to confirm no power to the cup holder or item
Remove clear plastic inner cup and foam pad
Tip over lounge/chair and unplug the 5 pin plug from the actuator and system plug and tip lounge/chair back over
Remove the 4 screws at the bottom of the cup holder and remove cup holder
Insert replacement cup holder leads and plastic housing into position
Screw the 4 screws back into place
Tip over lounge/chair again and locate leads and plug in
Tip back over insert foam pad and clear plastic inner cup
Reinstate the power.
Reviews (1)
FAQs
FAQs
Where do I find the model number?
Remove the cup holder from the arm of the recliner and the model label is found on the bottom of the cup holder housing.
Will this fit my recliner?
To be sure of the correct dimensions watch our short product video found in the main product pictures.
Do you sell the clear acrylic inserts?
Yes, we sell the clear acrylic inserts here. Click this link to go to the product https://sofarehab.com.au/product/acrylic-cup-insert/
Can I change the LED colour?
Yes, there are popular 7 colour options, simple press and hold the 'Light' button to scroll through and then release the button on the preferred colour. The cup holder retains the colour selection for the next time you use it.
Does the LED lights stay on permanently?
No, the manufacturers have built in a pre-set timer, after a period of time the lights will automatically turn off and then require a button to be pressed to turn back on.
Will this link to my other cup holders and light bars?
Yes, you need to select the same frequency setting on all cup holders switch boxes to ensure the lights all match.
Is it easy to fit this cup holder?
Yes, very simple to do, follow our step by step installation guide found in the 'How to' tab.
I purchased some items to fix a rip in my sofa. It really is as easy as they say in the videos. I have extended the live of my sofa for just 5 mins of work and a small cost. Great products.
Katy Thompson
Excellent service, swift replies and good understanding of my personalised requests for leather sofas and chairs that I have refurbished to date. Durable and reasonably-priced products with convenient delivery and payment options.
Anthony P
I could not be happier! I thought that my couch was beyond saving but now it looks great. So easy to use, I wish I had done it much sooner.
Meghan Smith
My order for the power supply arrived today, I had a go at installing it rather than waiting for my hubby to come home, took me all of 2 minutes and has saved me $400, gotta love that! Super fast delivery and brilliant customer service. Thanks so much!
Gillian Allen
I was doubtful this would repair our badly damaged headrest area of our leather lounge. But, I thought had nothing to loose so I gave it a try.
I cut a tiny sample of our leather away from underneath the recliner where that cannot be seen & sent that to Sofa Rehab to hopefully match our colour.
I've just completed the repair & colour. The colour match is perfect & now I cannot see where the damage was before. Marvellous product.
Robert Burrough
You may also like…
Related products