Essentials Leather Wash
$21.00 – $27.00
Our leather wash is effective yet gentle. Quick & easy to use with seriously good results. Use regularly to maintain clean leather. For All Leather & Vinyl. Can be used with white leather. Suitable for all lounge, chair and automotive leather types, except nubuck leather and seude. Unsure What Size You Need? 500ml and 750ml sizes available. See our coverage guide below to find the right size for you. You Can Do It Yourself and Save $$$ Watch our video tutorial demonstrating the effectiveness of this leather care product. read more
Description
Used by Professional Leather Cleaners and Technicians.
Essentials leather wash is designed to lift everyday in-ground dirt, grime and perspiration with ease and without drying out the leather. The wash solution is PH neutral. The cleaner comes in a handy trigger spray bottle with a variable spray cap & a cleaning sponge for application.
Always the Lowest Prices From Australia's Leading Supplier
We're Australia's Leading Supplier for Repair Kits, Cleaning Kits, and Spare Parts. Get the lowest prices on Do-It-Yourself products. If your a trades person who needs to buy in bulk, we also offer bulk buy discounts.
Available in Multiple Sizes! Our Coverage Guide.
Our 500ml bottle will effectively clean 1x large two-seater and 2x arm chairs.
Our 750ml bottle will effectively clean 1x large three-seater and 2x arm chairs; or a large corner group.
You Can Do It! Our Video Tutorial
How To
How To
Pre-test on a concealed area of leather before first use
Spray the leather wash directly onto the leather
Gently work the leather wash in, using circular movements with the sponge, to agitate the oils, dirt and grime
Wipe the area dry using the lint free cloth provided
Heavily soiled areas may require a second application of leather wash therefore, repeat steps 3 and 4
Once the item is clean and dry, we recommend applying the Essentials Leather Moisturiser to nourish and protect the itemTip – regularly rinse the sponge and cloths to prevent washing the dirt and grime back in to the surface.  Suitable for all types of leather except nubuck and suede.  Use regularly to prevent a build up of oils, dirt and grime
Reviews (1)
Items I bought were a direct replacement for my lazy boy controller and transformer, quick delivery, now I have all bits it is just a matter of swapping out the parts
Raymond Young
Site is easy to access and navigate, found needed product and checkout was hassle free. Delivery was speedy and product was good quality. Overall great experience!
Sheryl Saunders
Needed transformer for our Plush sofa (Plush couldn't supply one for 3 weeks!) left a message with Sofa Rehab and was contacted that day, very helpful. Transformer arrived a day later; very happy as sofa now working fine and impressed with service, delivery and advice.
Angela Comben
Excellent service with very fast delivery. The Latch and cable kits was super easy to change over. Your cable selection chart was very helpfull. I changed all 4 latch and cables in 10 minutes. Thank you!!
Jason Charlton
I was doubtful this would repair our badly damaged headrest area of our leather lounge. But, I thought had nothing to loose so I gave it a try.
I cut a tiny sample of our leather away from underneath the recliner where that cannot be seen & sent that to Sofa Rehab to hopefully match our colour.
I've just completed the repair & colour. The colour match is perfect & now I cannot see where the damage was before. Marvellous product.
Robert Burrough
You may also like…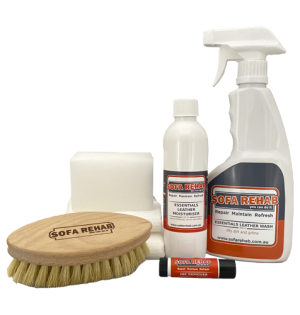 Related products