600 Grade Sandpaper – 5 Pack
$2.00
Australia's Leading Supplier of D.I.Y Leather Repair Products A 5 pack of 600 grade sandpaper used to smooth loose edges, leather filler and generally prepare the leather surface for cosmetic repairs. For The Best Results Be Prepared. Order together with our repair products and be prepared and ready to start. read more
Brand:

Weight

0.02 kg

Dimensions

12 × 18 × 1.9 cm
Description
A 5 pack of durable 600 grade sandpaper, each sheet is approximately 50mm x 100mm. Ideal for use with Sofa Rehab's repair products.
Save Time & Money and Do It Yourself
With our wide range of repair products, our easy step-by-step instructions and video tutorials, you've got everything you need to repair it yourself. Feel great about having done the repair yourself and saved $$$ on the repair.
How To
How To
Use the sand paper to lightly sand the surface of the repair to smooth prior to applying the next stage in the repair process.
Top Tip – Do not apply heavy pressure when sanding as this may damage the leather surface.
Reviews (0)
There are no reviews yet.
I've worked in a furniture store for 9 or so years and finding suitable recliner cables was always a challenge. When I recieved my cables off you guys, I couldn't believe how well they fitted. Absolutely magnificent place to get your cables. They were here in a couple of days as well so highly recommended.
Anthony Testa
Product was great, covered up the faded part on my leather chair and blended in so well couldn't see where I had applied it. Company very efficient with order and postage
Rosalie Osborne
I purchased some items to fix a rip in my sofa. It really is as easy as they say in the videos. I have extended the live of my sofa for just 5 mins of work and a small cost. Great products.
Katy Thompson
Fixed my couch!! Quoted $1000 to fix this. $200 later from Sofa Rehab and fixed it myself. The couch had tears and the leather was also quite worn on one of the seats. With their video instructions it ended up being easier than expected. The colour matched perfectly.
Vitali Kanevsky
The product is the same as the original. Easy to install and great fast service from Sofa Rehab. The coiled plastic on the original part was disintegrating exposing the wires and now with the new control part the chair is as good as new!!
Narelle Carlson
You may also like…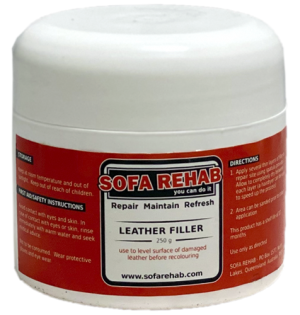 Related products